Happy Aloha Friday, Folks!
I'm happy to share my first videos for the Aloha Friday Art series which runs every other Friday from now until Summer. I hope you find the videos helpful and projects interesting. If there are any questions about the techniques or tips I've shared feel free to send a message here. I'll try to get back to you as soon as I can. If you or your child/children have artwork they'd like to share, please post in Instagram using #AlohaFridayArt.
Aloha Friday ART – Drawing with Markers (Tips & Techniques) Part 1
Please NOTE: The tips & techniques described in this video series apply to most school grade & premium student & professional marker brands.
Aloha Friday ART – Marker Tips Pt. 2
DOWNLOAD Drawing templates for Aloha Shirts project:
Aloha Shirt x1: jpg file: https://bit.ly/2JlV59W and pdf file: https://bit.ly/2Us904F
Aloha Shirts x2: jpg file: https://bit.ly/2UEHv6A and pdf file: https://bit.ly/2wzlHl3
Marker Tips & Project, Part 3
Tada! It's finally done.
UPDATE: It took more than a week to complete because I had to put it away and do other things. However, I was able to find the colors I worked with before and pick up where I left off in the details while adding more details. I don't know what to call this creature which is a combination of a duck and a slug. Oh, I know… How about Doodle Duck McSlug? 😉 Have fun drawing your own doodles and pictures with markers!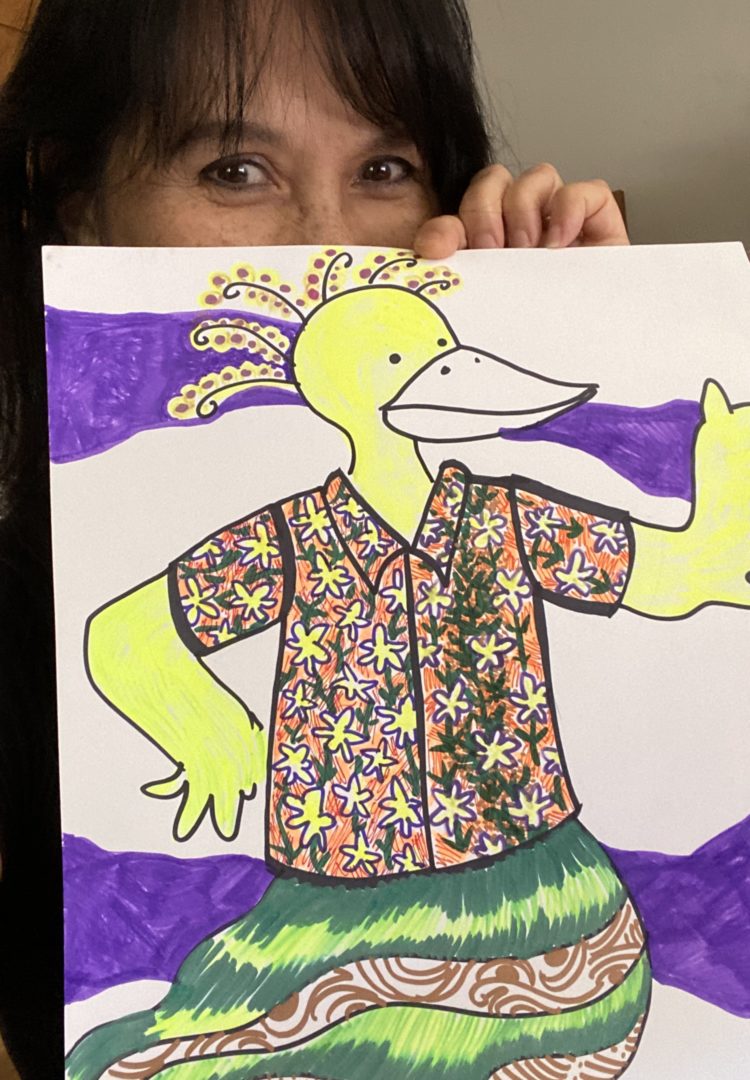 A word from the creator of ALOHA ART FRIDAY, E dna Cabcabin Moran (AKA Ms. Edna): It is my hope that people enjoy this free series including the art projects, references and materials. The majority of content in this series is either created and/or sourced from public domain or stock art by me except for feature writings, artwork or other media by other creators who have given their express permission for use in ALOHA FRIDAY ART. If you have any questions pertaining to any content in this series, please send me an email query at info (at) kidlitedna (dot) com. Thank you!
ALOHA FRIDAY ART ©2020 Edna Cabcabin Moran. All Rights Reserved.